AOC Attacks Whites For Protesting Stripping of Civil Rights, More Hypocrisy from the Left
AOC, the brain dead progressive, is at it again. She came out last week, with mass protests again over the draconian measures some Democrat governors have taken to strip civil rights from citizens, she did not see this as a protest to protect our constitutional rights, all she saw was white people, then set off on a racist tirade against all whites.
Rep. Alexandria Ocasio-Cortez has been in a tight spot as of late. Sen. Bernie Sanders (I-VT) is out of the race. She has had to switch and throw at least a modicum of support to former Vice President Joe Biden, whom she labeled as a "conservative" earlier this year. She also chimed in on the recent protests in Michigan in which residents expressed their opposition to ongoing stay-at-home orders.
AOC – Protestors Are Protesting Because of "White Privilege"
This last Thursday, a large group of protestors came to the Michigan State Capital to protest against the shutdown that was issued, it was said to be done in the name of fighting the coronavirus, the problem is that it included what you could shop for, shut down parts of stores the Governor didn't consider essential. There were also restrictions against gardening, buying material for landscaping, traveling from one home to another, even sitting outside and visiting with your neighbors.
This was too much for many in Michigan; they showed up to protest, to show that their rights were still there, and to exercise them, some came armed. According to the state police, the group was not significant; about 400 – 700 people, some protested the assault on their civil liberties, other carried signs demanding the removal of the Governor.
When AOC saw the news coverage on the event, she only was able to see one thing; there were White People. She responded in the typical racist manner she always does, ranted about how they were white, yelled about racism. In a post on Twitter she said:
Here is the problem that AOC either refuses to see or her addled socialist mind can't comprehend. Black Lives Matter was calling for an assault on police, the very ones that are upholding our liberties, blamed police for daring to enforce the law, and most shocking to her, the police dared to shoot back when a thug was shooting at or assaulting them.
The same with ICE, illegals came into this nation, people like AOC, the protestors against ICE are more concerned about protecting people that broke the law, are here illegally, then safeguard our citizens.
Further, the people protesting were not protesting to yell about being able to break the law, they were protesting the illegal and unconstitutional assault on their civil rights by Democrat governors who thought they had the legal right to do this.
This is the usual double standards one would expect from AOC and others, throw our citizens under the bus, then go out of their way to protect people that aren't citizens, shouldn't even be here to start with.
What she also did not mention, these people were peacefully protesting; they were not damaging property, Black Lives Matter was very much involved in the riots in cities like Ferguson where businesses were looted and property destroyed.
The other interesting thing here with AOC and other progressives is how they can look at the same crowds but with different protests and see race with one, not with the other.
I take us back a couple of years ago when Governor Walker was in office, here is a picture of the Capital building of Wisconsin, the protestors were at that time protesting Walker stripping the unions of the vice grip they held over Wisconsin.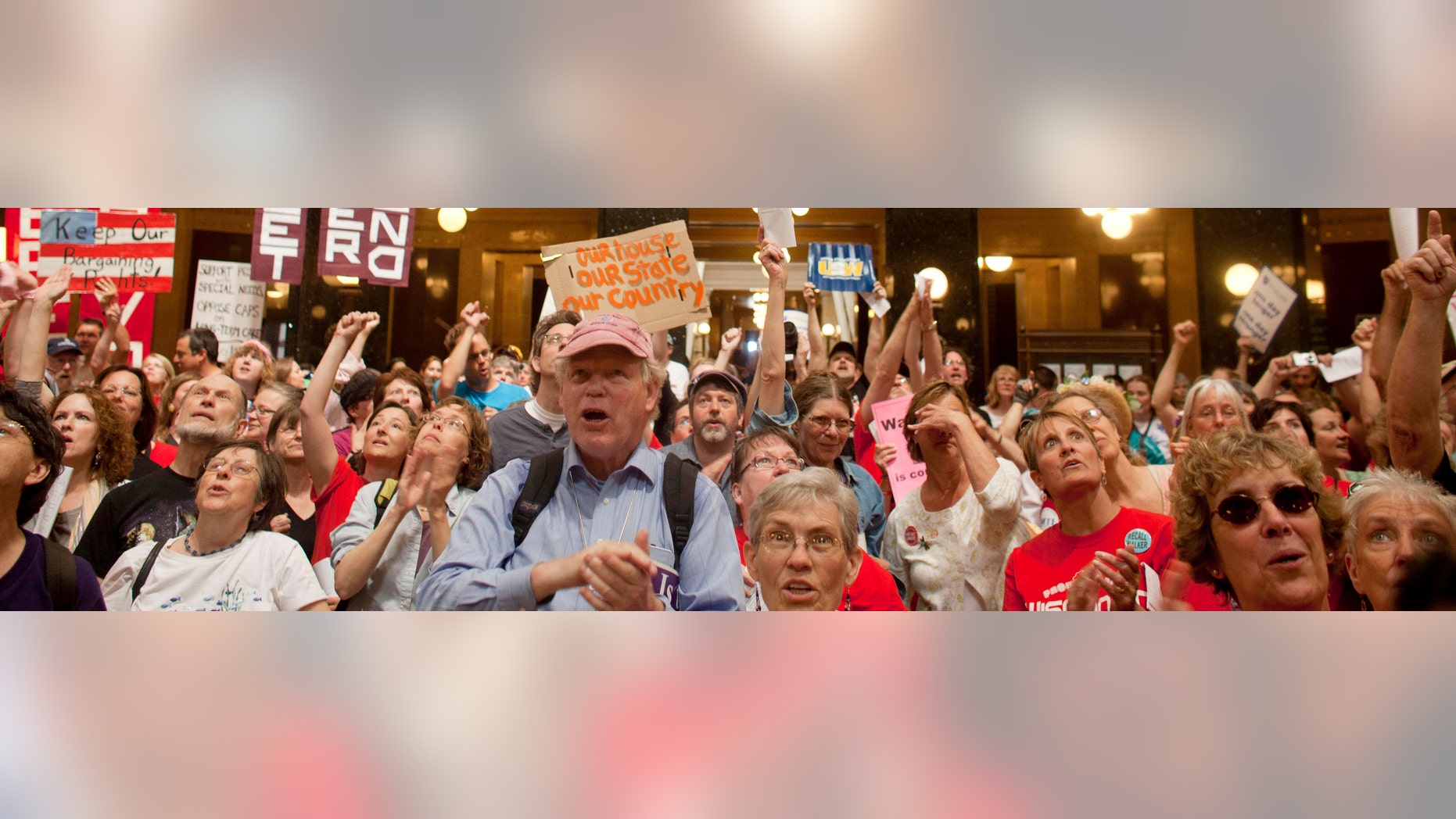 I guess if everyone is white, but they are protesting socialist or Progressive ideals, that is not racist, at least according to AOC and others, but if you are white, and with far fewer people, are are protesting peacefully, that is the most racist thing they have ever seen.
As I have said before, and many others have before me:
If Democrats did not have double-standards they would not have any standards at all!
What we are seeing from people like AOC, Rashida, Ilhan, and others, if you are white, do as they demand, or you will be labeled a racist if you dare to oppose them, they will scream racist from the top of roofs.
I say, "Bring it on!"
In the past racist used to be such a powerful word, carried such a stigma that people would travel to the ends of the world to erase this stigma from their name, then along came Obama, the Democrats used this term as a bludgeoning tool, if you would not agree with them and Obama, it must be that you are a racist.
Soon it was used to pass bills, to force people to step into line, but like all things that have been abused, it lost its power, today all it means is you are not a leftist and don't agree with leftist ideology.
How sad, the Left took something that great and noble Americans fought for. To bring equality, to stop injustice, to be treated as a fellow human, and threw their sacrifices out the door, rejecting that people gave up limbs, liberty, even their life for this cause, tossed it out for something as fleeting as political expediency.