AOC Slammed For False Claim On DeSantis, Who Was Taking Wife To Cancer Treatments: 'A Dirtbag,' 'Evil'
By Timothy Benton and Daily Wire News Crew
Rep. Alexandria Ocasio-Cortez (D-NY) faced backlash on Friday evening after falsely suggesting that Florida Governor Ron DeSantis (R) was missing when, in fact, he was still carrying out his job as governor and taking his wife, Casey DeSantis, to her cancer treatments.
Ocasio-Cortez's false remarks came in response to DeSantis' campaign welcoming her to the state of Florida after news broke that she was hanging out in Miami Beach while the city she represents recorded a record number of new coronavirus cases. AOC's trip to Miami generated significant media attention because she previously attacked Sen. Ted Cruz (R-TX) for planning a trip to Mexico. At the same time, Texas dealt with a storm crisis.
TRENDING: HEALTH OFFICIAL ADMITS TO MISLEADING CHILD HOSPITALIZATION RATE IN ORDER TO TERRIFY PARENTS
"Welcome to Florida, AOC!" DeSantis' campaign said. "We hope you're enjoying a taste of freedom here in the Sunshine State thanks to @RonDeSantisFL's leadership."
Ocasio-Cortez responded by suggesting without evidence that DeSantis had "been inexplicably missing for like two weeks" before saying that she wanted to "help with local organizing" in Florida.
"Ron DeSantis is taking his wife to cancer treatments over Christmas break," commentator Joe Colangelo responded. "Meanwhile, his New York critics visiting Florida to enjoy themselves accuse him of going missing. Really beyond the pale."
"So Ron DeSantis was taking his wife to cancer treatment while the libs, including AOC, accused him of being missing and abandoning his state," a writer for Red State responded. "The people are evil."
"AOC is a dirtbag," another popular Twitter account tweeted. "She hit Governor DeSantis for being 'missing.' As it turns out, the governor was busy helping his wife through her cancer treatments. AOC should immediately apologize to the DeSantis family."
"Gov. Ron DeSantis has a wife fighting aggressive breast cancer and three small children that he is caring for," commentator Benny Johnson wrote on Twitter. "His youngest is one year old. You sip a martini in a red state he runs as your blue district collapses under your garbage policies. Sit down, Queen Marxist Antoinette."
"Embarrassing, even for you," DeSantis press secretary Christina Pushaw responded.
"Mocking a governor while vacationing in his state — and 'ore importantly —- also while he's attending to his wife currently receiving cancer treatments is some look," columnist Joe Concha tweeted. "What is wrong with people? And this is an elected official."
Pushaw tweeted screenshots showing DeSantis' public schedule for the last two weeks.
Cross-posted from The Daily Wire
Notes from the Editor
It should be of note, while DeSantis was aiding her wife by going with her to cancer treatment, this was the same AOC who, back when Texas was without power, took to Twitter to attack a Republican Ted Cruz who went on a vacation that was arranged months before to Cancun, yet with New York locked down and Covid on the rise in New York she fled to Florida to escape the lockdown. This was called out rather quickly.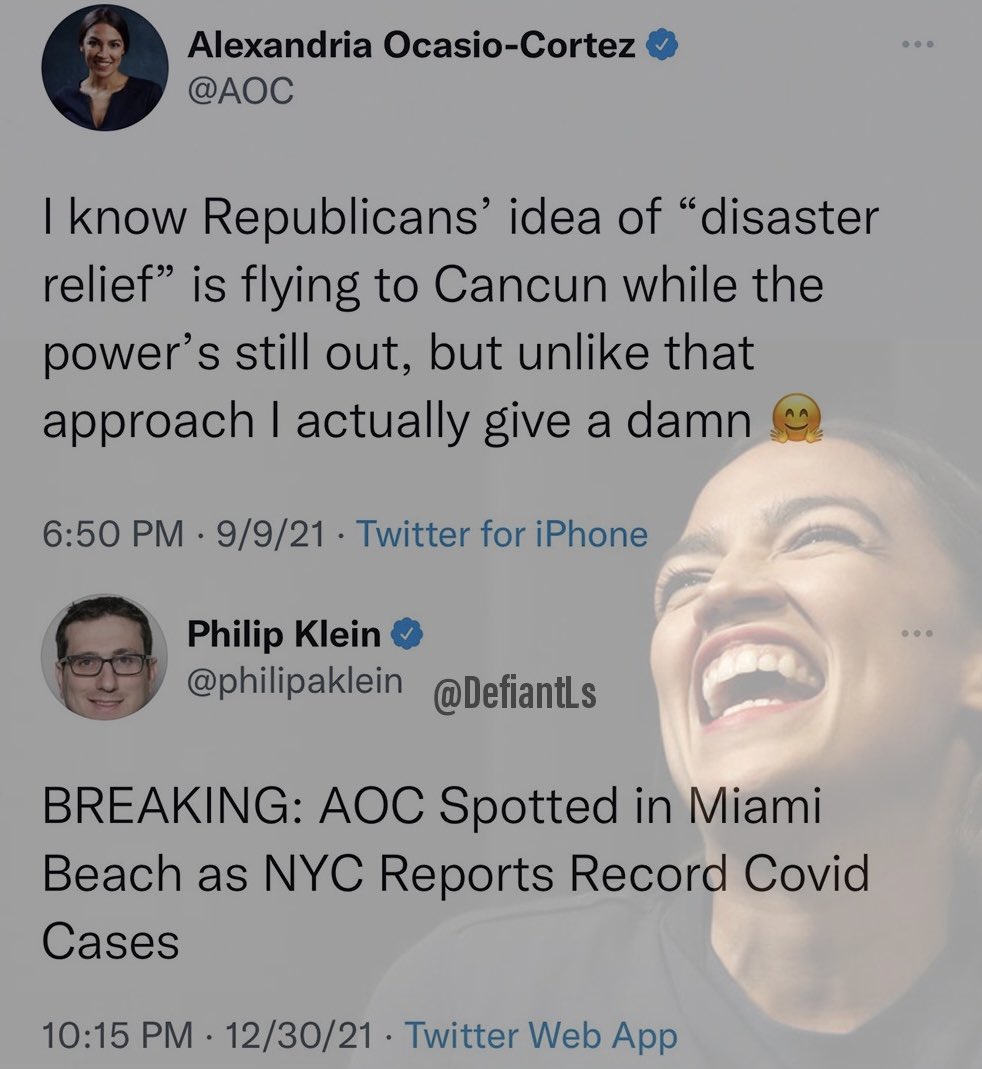 As one would expect, for AOC to run from a lockdown, that is acceptable; she is above following what she expects the people where she lives to follow. But the hypocrisy is seen; many are calling it out.
The silence from the Left was noticed and was quickly called out.
TRENDING: FRANCE FIGHTS BACK, SHUTTERS MOSQUE AFTER WHAT IMAM ALLEGEDLY SAID
I think this post said what many of us are thinking, but know it is politically incorrect to say:
We are committed to truth and accuracy in all of our journalism. Read our editorial standards.