AOC's team, After Telling People To report Anyone That Makes Fun Of Her, Ends Up With Blogger Having Police Visit
Today not only can you not question anything AOC says, if you dare call her out on her lies, you too could get a visit from the police, find yourself banned off of Facebook or Twitter, or worse, have a group of angry liberal woke children, pretending they are adults, trying to cancel you on the internet.
In February, Congresswoman AOC's campaign sent out an email encouraging AOC stans to report people making fun of her to Big Tech. Rep. AOC told a fabricated story about her "harrowing" experience during the Capitol Riots. #AOClied and #AlexandriaOcasioSmollet were trending on Twitter to mock her for it. So Rep. AOC wanted supporters to snitch. Two months later, anti-war blogger Ryan Wentz was paid a visit by capitol police after a mild criticism of Congresswoman AOC. His lame criticism was reported to the police that he "threatened to kill her."
TRENDING: NEW HAMPSHIRE: MASSIVE CHILD SEX RING BUSTED AT STATE YOUTH FACILITY – HUNDREDS OF KIDS TORTURED & RAPED
We all know that to the awoke left, even words of condemnation are mental murder (I wonder if she took this from Mary Baker Eddy, who claimed she was being killed from mental arsonic?).
Tucker Carlson spoke about this:
"Incredibly underwhelming."
That's it. That's the tweet.
A week later, the police showed up at his house. Two plainclothes officers from the California Highway Patrol arrived, calling his name. They explained they'd been sent by the U.S. Capitol Police in Washington to respond to a threat against a sitting member of Congress. Wentz hadn't threatened Ocasio-Cortez or anyone else. He'd merely disapproved of her opinions.

Ryan Wentz hadn't included any personal information in his social media profile. Yet the police knew his name and exactly where he lived. How'd they find him? It seems likely that Twitter turned Wentz in to authorities on behalf of their friend Alexandria Ocasio-Cortez.

It's hard to believe this is happening in America, but it did. The California Highway Patrol confirmed it Friday. The Capitol Police told "Tucker Carlson Tonight" they referred Wentz's name because he was mentioned in a "threatening" message. They denied that Ocasio-Cortez requested an investigation.
Congresswoman AOC denied any involvement in it, which I can believe. She's a busy woman saying silly things on Instagram. And the bit about Wentz's personal info being turned over by Rep. AOC's allies in Big Tech is Carlson's opinion. However, it does leave unanswered questions. How did police obtain Wentz's identity and personal information? Also, how do you show up at someone's door claiming they threatened a congresswoman's life on Twitter WITHOUT seeing the alleged "threat?" Perhaps details are missing.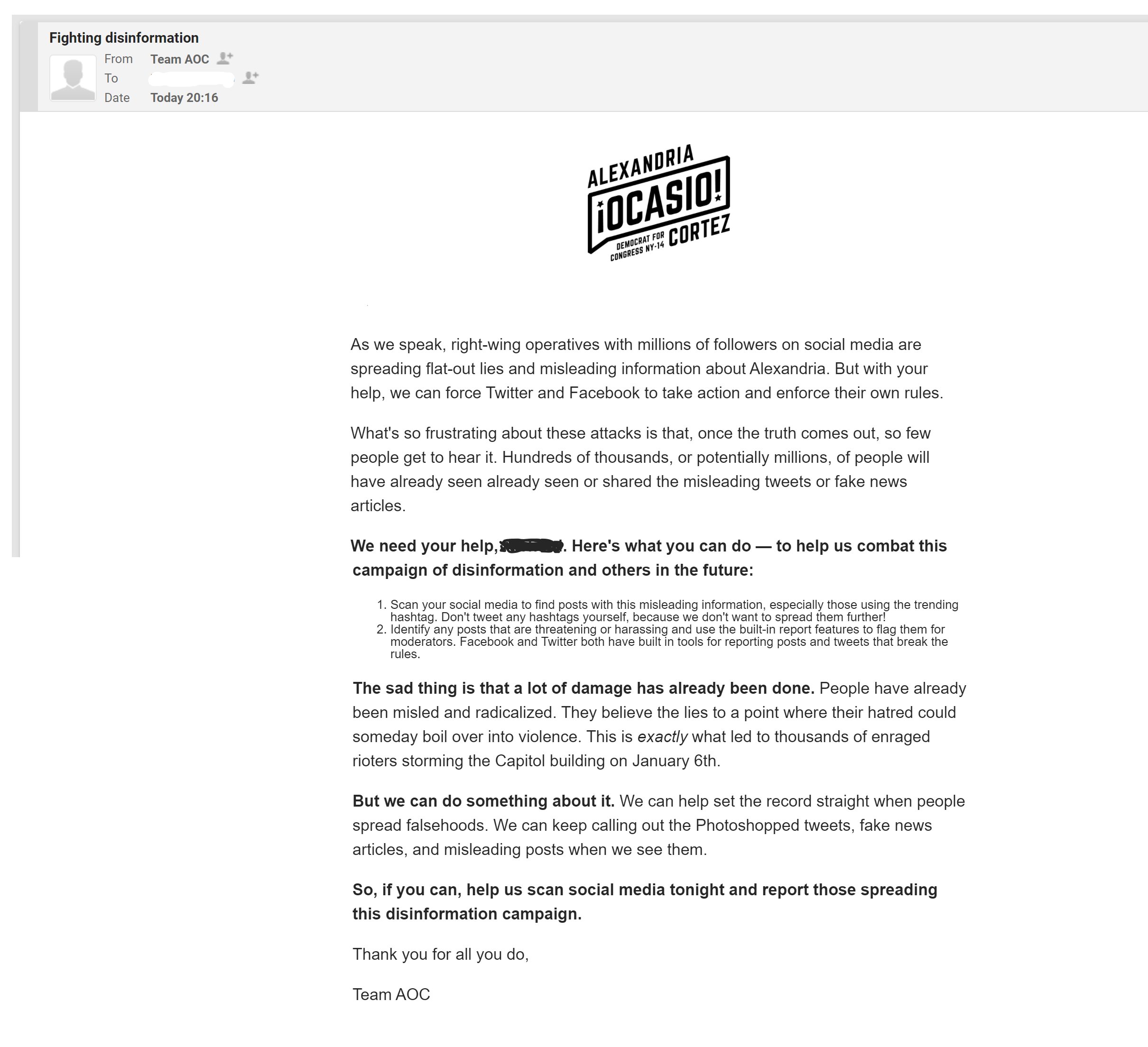 What's most disturbing is the lack of questions asked of authorities (cops, Congress, Big Tech) between someone tweeting "her response was underwhelming" to having the police show up at that person's front door. The way the story's presented reeks of "I saw Goody Proctor tweet mean things about AOC."
TRENDING: MAJOR CORPORATIONS PLAN TO OPPOSE ELECTION INTEGRITY MEASURES
It is amazing, AOC who says Trump is at fault for the Capital incursion's actions, his words worked these people up to do this, even though he told everyone to keep peace in their protests. Further, AOC says since people that supported Trump said bad things, somehow Trump is guilty of all their actions. Yet, when the tables are turned, she now begs off any responsibility; it is not her problem. Anyone who blames her is in the wrong.
One has to wonder, do any of these leftist liberals ever apply the same standards to themselves that they demand of others?
We are committed to truth and accuracy in all of our journalism. Read our editorial standards.