BLM Leader Demands Whites Give Up Homes; Another says Whites Should be Wiped Out Because Of Genetic Inferiority
Whites Give Up Your Homes, Or We Will Take Them From You
Black Lives Matter Leader Chanelle Helm gave a warning to all whites, stating, "Give us your homes in nice neighborhoods or wait to be branded a racist, and your home will be forcefully taken away when you are arrested and tried for a 'hate crime.'"
We used to look for such talk to be on a Saturday Night Live skit, in jest making these outrageous claims, but no longer, this type of thing has moved mainstream. This has grown with the support of the socialist left; leaders in the party are happy to support such demands so long as it gets them votes, but as we saw with Seattle, when the activist come to their homes suddenly, the support is pulled.
This has been further pushed by what was seen by protestors going into Seattle Suburbs, confronting residents, demanding they give up their homes. In other protest areas, people who have dared to stand up to these domestic terrorists have been physically assaulted, others shot.
Handing out a manifest of demands, the victimhood of this group runs so deep they think we owe them our homes because they don't have one.
RELATED: Black Lives Matter leader Says all Whites Are Products Of Genetic Defects, Should Be Wiped Out.
The Democrat Party, which loves to scream racist, has turned out to be the party giving voice to and enabling racism as we have here.
What is worse, Black Lives Matter members think if whites don't agree to hand over their property, this can only come from the point of racism. To rectify this, they demand we not only hand over our homes but our assets as well.
She first made this demand in 2017; when she reiterated this demand, she was called from news sites for whom she refused to retract her needs. Instead, she went on rants to fact-checking sites like Snopes. The only reason this blew up four years ago and now is doing so again is white racists trying to exploit this; she is nothing but a victim here.
Her original statement was:
White [people] if you don't have any descendants, will your property to a Black or Brown family. Preferably one that lives in generational poverty. … White [people] if you can afford to downsize, give up the home you own to a Black or Brown family. Preferably a family from generational poverty. … White [people], re-budget your monthly to donate to Black funds for land purchasing.
Snopes, the supposed fact-checking site, claimed the reason she was questioned in the past was due to her being used by white supremacists to make Black Lives Matter look bad. I would contend they do that fine by themselves; she is just adding to this.
You can see her in a 2017 interview here:
You can view her comments on Facebook; she is still very active in the activist community and Black Lives Matter. She is still very fond of putting out words about liberationists, but one has to ask, "What are you being liberated from, Chanelle? Are you not able to work where you wish, to rise to any office you work for; after all, Obama did this? Or maybe it is instead of being liberated you think we owe you something for the choices you made in life?"
TRENDING: REFUND THE POLICE: PORTLAND MAYOR TO REHIRE RETIRED OFFICERS IN AN EFFORT TO GET SHOOTINGS UNDER CONTROL
I have no issue with people feeling oppressed; you can feel like you are a sea horse, which doesn't mean you are one.
We see what the demands from Black Lives Matter are, the redistribution of wealth, for Blacks to be equal and have special privileges; if you don't give in to their demands, you must be a racist. This is nothing but a socialist scam.
How sad; people like this are racist yet are using this narrative to run around and accuse others of what they are offenders of.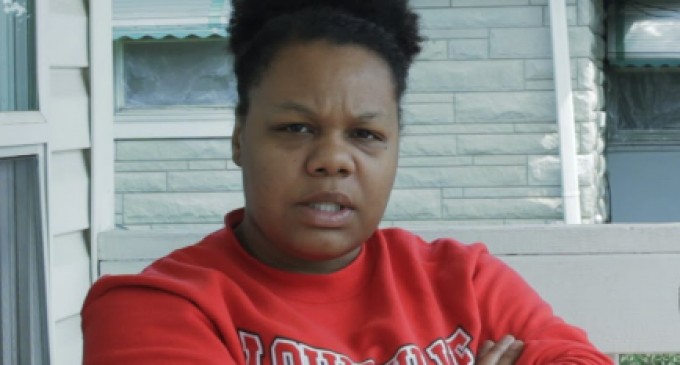 Here are the demands she placed on Facebook, is still standing by them now:
1. White people, if you don't have any descendants, will your property to a black or brown family. Preferably one that lives in generational poverty.
2. White people, if you're inheriting property you intend to sell upon acceptance, give it to a black or brown family. You're bound to make that money in some other white privileged way.
3. If you are a developer or realty owner of multi-family housing, build a sustainable complex in a black or brown blighted neighborhood and let black and brown people live in it for free.
4. White people, if you can afford to downsize, give up the home you own to a black or brown family. Preferably a family from generational poverty.
5. White people, if any of the people you intend to leave your property to are racists assholes, change the will and will your property to a black or brown family. Preferably a family from generational poverty.
6. White people, re-budget your monthly so you can donate to black funds for land purchasing.
7. White people, especially white women (because this is yaw specialty — Nosey Jenny and Meddling Kathy), get a racist fired. Yaw know what the fuck they are saying. You are complicit when you ignore them. Get your boss fired cause they are racist too.
8. Backing up No. 7, this should be easy, but all those sheetless Klan, Nazi's and Other lil' dick-white men will all be returning to work. Get their ass fired. Call the police even: they look suspicious.
9. OK, backing up No. 8, if any white person at your work, or as you enter in spaces and you overhear a white person praising the actions from yesterday, first, get a pic. Get their name and more info. Hell, find out where they work — Get Them Fired. But certainly address them, and, if you need to, you got hands: use them.
10. Commit to two things: Fighting white supremacy where and how you can (this doesn't mean taking up knitting unless you're making scarves for black and brown kids in need) and funding black and brown people and their work.
We have seen the constant claims of victimhood from Black Lives Matter, but now they want to demand we give up our homes and property, attack people who disagree with them, and some wonder why I call them domestic terrorists.
We saw the same actions in Venezuela, Cuba, and Europe with socialism; now, they want to bring this failed political philosophy here.
Whites Are Inferior, Should Be Wiped Out
Yet it is getting worse; we have seen others, such as Black Lives leader out of Toronto, Yusra Khogali, tweeted that all whites were nothing but a genetic misfire; as sub-humans, we should be done away with.
"Whiteness is not humxness," wrote Yusra Khogali in 2016. "in fact, white skin is sub-humxn."
She further said white people "are recessive genetic defects. this is factual."
"White ppl need white supremacy as a mechanism to protect their survival as a people because all they can do is produce themselves," she wrote. "black ppl simply through their dominant genes, can wipe out the white race if we had the power to."
Khogali asserted that white people have a "higher concentration of enzyme inhibitors which suppresses melanin production."
She added that "melanin is important for several things such as strong bones, intelligence, vision, and hearing."
TRENDING: PUTIN WARNS WEST ABOUT 'WOKEISM,' MAKES STUNNING COMPARISON
Khogali also claimed, "Melanin directly communicates with cosmic energy."
In a separate Twitter post, Khogali tweeted, "Plz Allah give me the strength to not cuss/kill these men and white folks out here today."
"Somehow, a tweet I wrote out of anger months before our protest began has become a bigger media story than our protest's many and profound accomplishments," Khogali wrote in a Toronto Star column in 2016.
"The noise surrounding this tweet has also drowned out the discussion we sought to spark about the black lives of those who have died at the guns of police in this country."
We have the usual nonsense you see from the racist with BLM. They excuse their racism by blaming others for what they are exercising, claiming others make them riot, loot, and kill, rather than accept that only they make these decisions.
After years of being taught that deflection and blaming others for lack of action or wrongful actions, we see this result.
We hear echoes of the past, the same thing heard from the Fascists in Germany in the 1930s with calls for genetic purity, to wipe out a sub-group of people because their genetics were considered weaker. The very people claiming to be fighting fascism, who are labeling everyone else as such, are the ones acting just like the fascist of old.
We are committed to truth and accuracy in all of our journalism. Read our editorial standards.