Biden Trying to Change Whom We Deal With In Saudi Arabia
It looks like Biden may be looking for some company with common ties; thus, he is moving to remove Saudi Arabia's Crown Prince Mohammed Bin Salman, who is all there mentally, and demanding to deal with King Salman, is not only naive, it is trying to tell our ally whom they can have as their crown prince and not.
King Salman has stepped back from his duties, passing most of them off to his son, the crown prince, due to his age and the fact that he is suffering from mental degradation. For all we know, this may be why Biden wants to deal with him instead of the crown prince; he and some within the State Department may feel that he will be more easily manipulated than his son.
The latest sign Biden's team is taking a different track from former President Donald Trump toward the world's largest oil exporter. Trump established close ties with Prince Mohammed and made Saudi Arabia the centerpiece of his strategy toward the Middle East after taking his first trip abroad as president there.
TRENDING: BREAKING – RUSH LIMBAUGH, CONSERVATIVE ICON, DIES AT 70
That's all being scaled back. In Biden's first few days, the U.S. put a hold on some key weapons sales to the kingdom and announced new efforts to bring an end to the Saudi-led war in Yemen. Biden has also called on Saudi Arabia to improve its human rights record.
"We're going to recalibrate our relationship with Saudi Arabia," Press Secretary Jen Psaki told reporters on Tuesday. "Part of that is going back to engagement counterpart-to-counterpart. The president's counterpart is King Salman."
Instead of engaging primarily with Biden, the crown prince's most appropriate counterpart is Defense Secretary Lloyd Austin, according to a person familiar. While Prince Mohammed's official role is deputy prime minister and defense minister, he has a vast range of responsibilities as heir to the throne his father, 85, has held since 2015.
He runs the country's day-to-day affairs, and it's common for foreign leaders to liaise with him directly, including Russia's Vladimir Putin and France's Emmanuel Macron.
This has caused disquiet in Saudi elite circles over how Biden might change the U.S. relationship with the kingdom — and with Iran, Saudi Arabia's regional rival.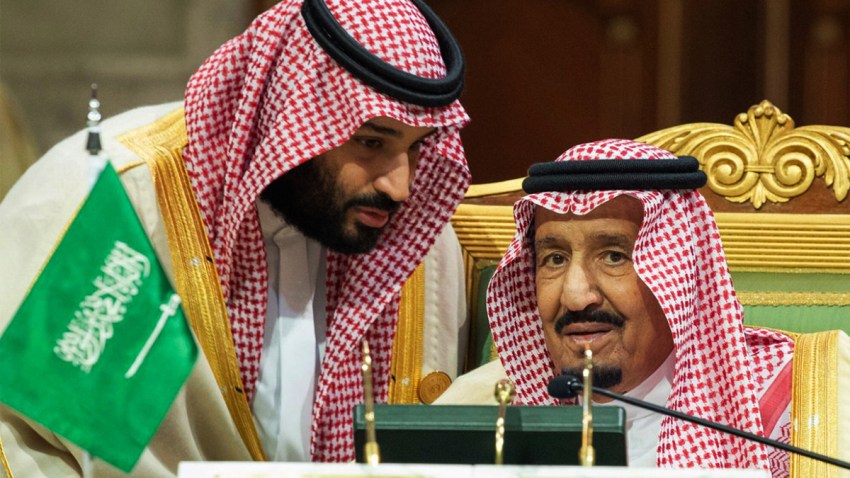 "Tehran sees Biden as weak," read the headline of a column on Wednesday in Al Sharq Al Awsat, written by Abdulrahman Al Rashed, a Saudi commentator close to the government.
U.S. Weighs Saudi Immunity Request in Assassination Plot Case
The relationship isn't entirely broken. U.S. officials have said they want to help the Saudis better defend themselves against Iranian aggression. The U.S. is expected to work closely with the kingdom's authorities to help bring about an end to the Saudi-led war in neighboring Yemen.
The crown prince became a pariah in much of official Washington after the 2018 killing of Washington Post columnist Jamal Khashoggi inside the Saudi consulate in Istanbul. An investigation by a United Nations special rapporteur implicated senior Saudi officials who reported directly to the crown prince, an accusation rejected by the kingdom's officials.
TRENDING: MICHIGAN SCHOOL'S EQUITY' TRAINING CALLS 'OBJECTIVITY' A FORM OF WHITE SUPREMACY
Recasting the relationship is "meant to send a signal that President Biden wants certain things from the crown prince, such as an end to the war in Yemen and a different approach to dissent at home," said Martin Indyk, a former U.S. special envoy to the Middle East, now at the Council on Foreign Relations.
Saudi Arabia Frees Women's Rights Activist Amid U.S. Scrutiny.
At this point, it looks like Biden will carry on the Obama legacy, to marginalize Israel and Saudi Arabia, thus driving them to closer ties, all while trying to make improvements with our enemy, Iran, while giving in to demands and doing whatever they can to appease them.
We saw over the last four years that appeasement does not work, this did nothing but embolden the Iranians.
Responding to a question about the administration's broader outreach to the Mideast, Psaki said Biden intends to talk to Israeli Prime Minister Benjamin Netanyahu "soon," which would be his first call a regional leader.
We are committed to truth and accuracy in all of our journalism. Read our editorial standards.