Biden's job approval down 25 net points with black voters since August 1
A month after vaccine mandates contributed to a drop in Biden's popularity among the reliably blue voting bloc, Biden's support continue to drop rapidly among African American voters.
As the Democrats try to ram through the infrastructure bill, something that is increasingly looking unlikely unless they bring in the GOP and work with them, black support due to inaction in both infrastructure, forced vaccines when the majority of the community wants nothing to do with this, and pushing what the community sees as a lack of priority for improving the plight for African Americans, Biden is facing a dangerous downward slide in support.
TRENDING: JOE ROGAN TO CNN EMPLOYEE: 'DO YOU THINK IT'S A PROBLEM BECAUSE YOUR NEWS NETWORK LIES?'
Since President Biden has announced a wave of new COVID-19 vaccine mandates, his support within the black community has been in free fall, which continues to this day and puts the Democrats in danger come election time next year.
With new polling presented, you see Biden continue to drop from overwhelming support among Black Voters, a much-needed demographic for a Democrat victory, to a slide that now has more blacks rejecting Biden than supports him.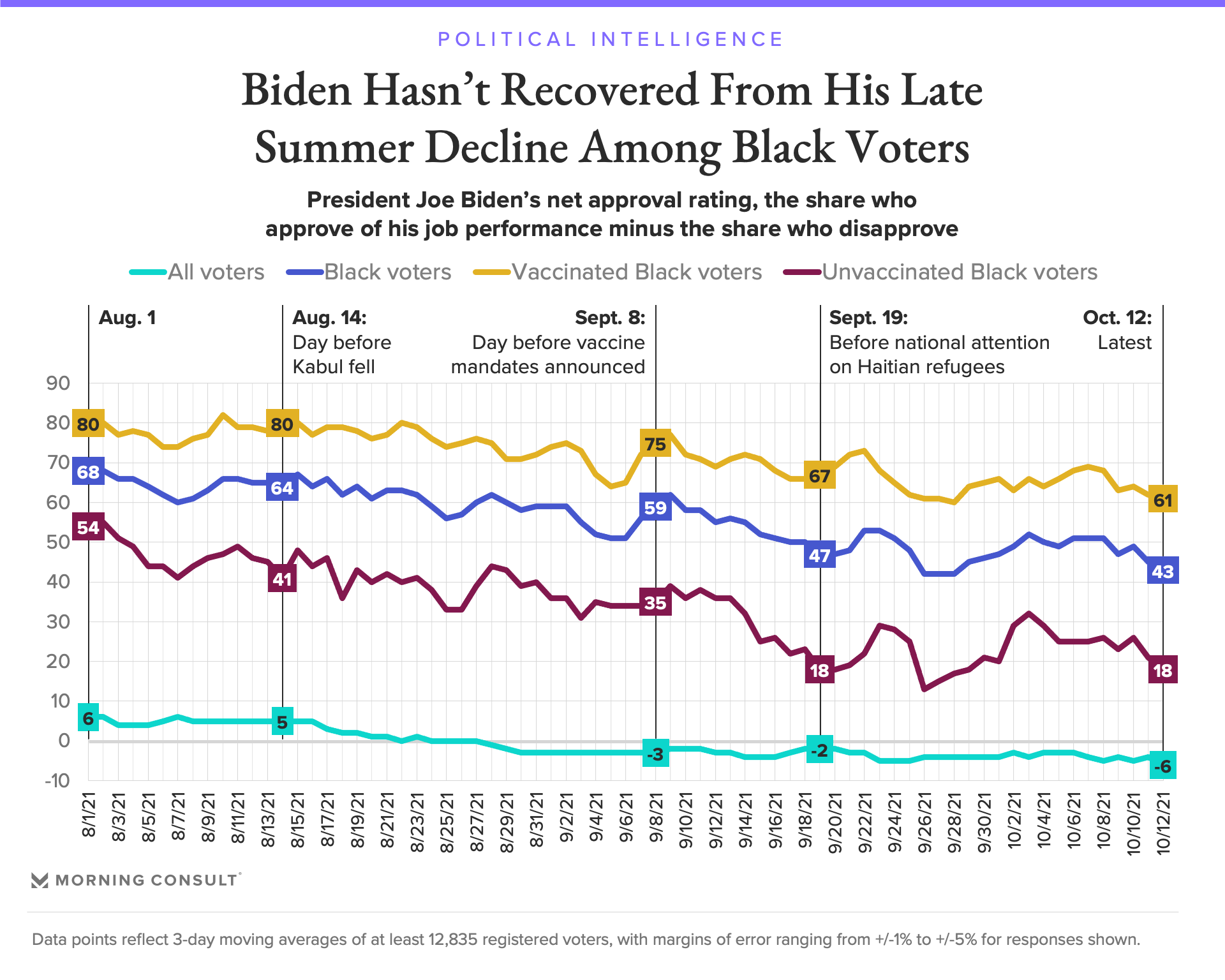 What do these numbers show us?
Biden's approval rating has shown a drop amoung white democrats, but blacks now have a majority that reject him and give no support, and among none vaccinated Blacks, the numbers are so low they throw any chance of reelection in grave jeaperdy.
In Oct. 10-12 we see more approval ratings still in the positive, yet as soon as the vaccine mandates were pushed he starts a slide, today only 43% of blacks approve of the job Biden is done.
The impact
What will be interesting is if these numbers continue to fall as more and more Biden policy failures take effect between now and November of 2024. This could spell a more significant problem with the mid-term elections; lack of approval could bring about dangerously low voter turnout within the black community and could see the GOP take control of the house (which looks likely) but the Senate as well.
TRENDING: CBO BLOWS UP DEMOCRATS' SPIN ON TAXES
According to Morning Consult:
Black voters were more likely than the average voter (68 percent to 58 percent) to report having seen, read or heard at least something about the administration's work to deport Haitian refugees, according to Morning Consult/Politico polling. 
Morning Consult's U.S. Vaccine Dashboard shows that 35 percent of Black Americans are either unsure about getting the COVID-19 vaccine or unwilling to be vaccinated, the highest share of any racial or ethnic demographic.
The Oct. 10-12 tracking was conducted among 16,557 registered voters with a margin of error of plus or minus 1 percentage point.
In the end, if this trend continues, not only among blacks, but all Americans, we could see the most significant defeat the Democrats have ever faced both two years from now and could see another Trump term in office if he decides to run again. This alone should send the Democrats into a total panic.
We are committed to truth and accuracy in all of our journalism. Read our editorial standards.