De Blasio's Snitch line Goes Terribly wrong!
De Blasio, patterning New York after East Germany during the cold war, has told citizens they should snitch on each other, take pictures of violators, show who is and who is not violating safe distancing guidelines, the images he got in had nothing to do with this, more or less showed him what we Americans think about being told to spy on our neighbors.
The Text he got from Twitter, and other sites were much, much worse:
"F–k you!" replied @MorganLSchmidt1, along with a meme showing Adolf Hitler and the words "TO THOSE TURNING IN YOUR NEIGHBORS AND LOCAL BUSINESSES — YOU DID THE REICH THING."
An NYPD source said that "dick pic" photos of real penises have also been texted to 311, and a caller phoned in a tip that de Blasio was seen performing oral sex on someone "in an alleyway behind a 7-11" early Sunday.
While I found these amusing, I thought it best not to show these, may end up getting myself in trouble with the censor police.
De Blasio did come on twitter and tell all New York residents:
"Sending that photo in is going to help make sure that people are kept apart, and that's going to stop the disease from spreading. And that's going to save lives," he said.
Repeat offenders face fines as high as $1,000 — and that could make the 'New Squeal' plan more dangerous than COVID-19.
The police were not so fond of this idea:
Pitting stranger vs. stranger with such high stakes "could result in acts of random violence," warned retired NYPD sergeant Joseph Giacalone.

"Maybe he should be figuring out why he didn't have enough PPEs for cops and EMS workers," the ex-sarge said of the mayor.
"I'd rather yell at them," said out-of-work waiter Edwin Mendoza. "If you take a picture, that could cause a scene … People can hurt you."
But Chris Colon, 26, works as a hospital clerk, and felt differently.
"With the way thing are now, I would snitch on anybody," said Colon. "Have you seen how many people died in New York?"
I am not sure about you, but if I was walking down a street and some stranger came up and started snapping pictures of me for no reason, they would find my reception of this would not be so lovely, I can see how this could quickly escalate. We are in America, and while we are loyal citizens, we are not communist China, where the neighbor is ratting out the neighbor, this type of nonsense has to stop.
De Blasio and Cuomo are so quick to blame Trump for this outbreak, but we need to remember what de Blasio was telling people in New York March 2nd, this was after Trump put in place the Chinese travel ban.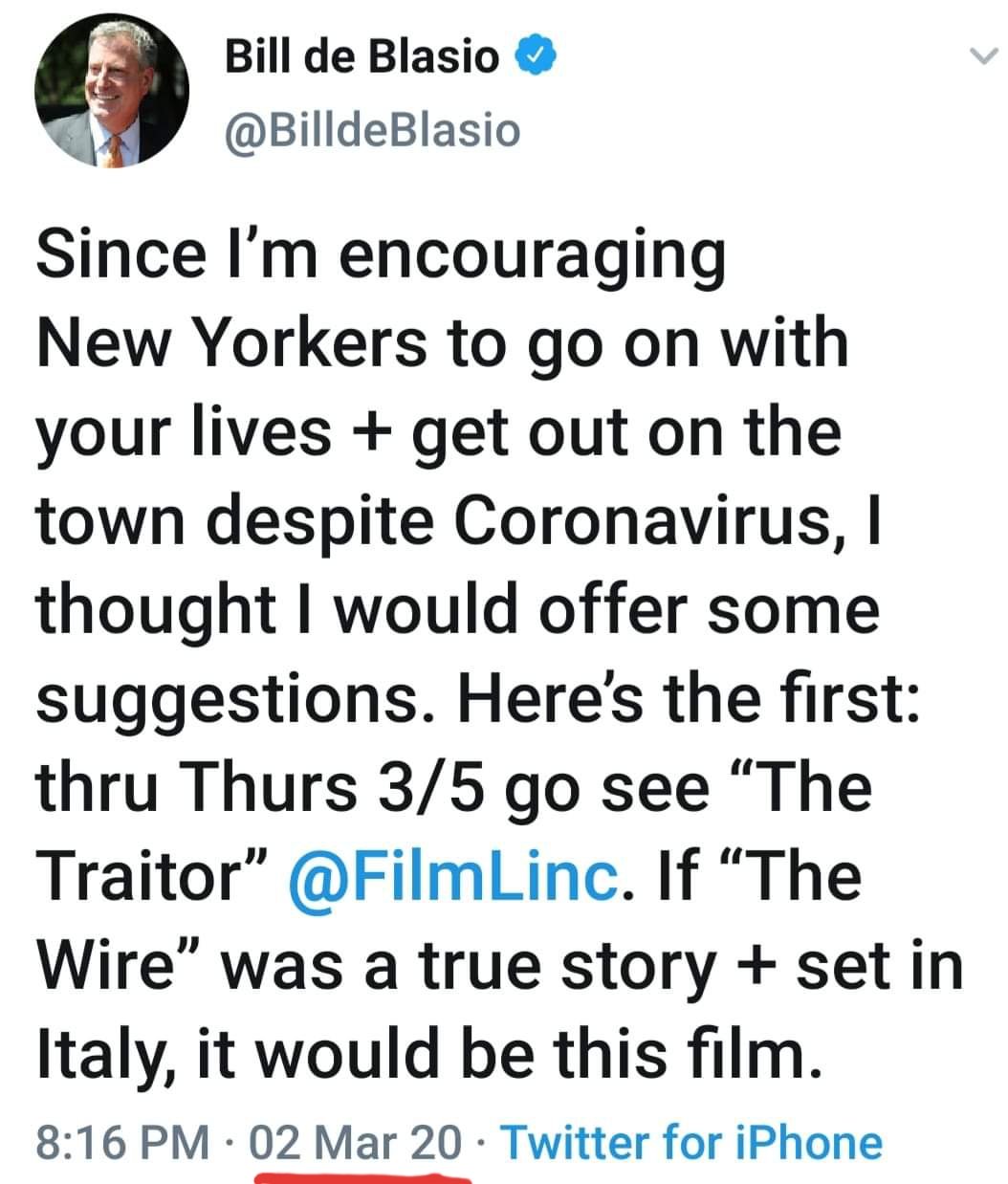 This is the same governor who said to the people:
"Excuse our arrogance as New Yorkers — I speak for the mayor also on this one — we think we have the best health care system on the planet right here in New York," Mr. Cuomo said on March 2. "So, when you're saying, what happened in other countries versus what happened here, we don't even think it's going to be as bad as it was in other countries."
What was seen was a downplaying of the virus, papers like Boston Globe and others attacked Trump for being Xenophobic, now these same papers are supporting the travel ban, but refuse to give Trump any credit for setting them in place. Even the New York Times, a newspaper that will go to any means to spread misinformation against Trump, had to agree with this assessment, even if they did so grudgingly.
We are seeing leftist cities not even bothering to abide by the constitution. They are now openly trying to push their socialist agenda, trying to turn their towns into Stalinist strongholds.