Enough Is Enough, With Riots, Attacks, this has to stop. It is Time To Pick Your Side
I am a fan of the right to voice your concern, but what has been going on is no longer about voicing your concerns over what you see as injustice, this is a revolution. We have terrorists like Antifa, other actors that are part of the George Soros empire acting to drive these peaceful protests into something much uglier. During this full-scale riot, innocent bystanders are hurt, police are injured, now in trying to storm the White House, over 60 secret service officers injured as protestors attempted to storm the White House. We can no longer sit silently; it is time to pick your side.
I support the right to have your voice heard, to peacefully protest, but stealing and looting, what does any of that have to do with a protest, you aren't honoring the life of a man taken, nor is this a protest, this is anarchy, someone is funding this, these people are being led like sheep, it is time to stop it.
Leaders like de Blasio and Chicago's mayor, they aren't aiding the situation; it is time to stop all protests, tell the people, this has gotten out of hand, go home. Instead, they are telling the people to unwind their hoses for in case their house is set on fire, you have a store owner sitting in ICU after being attacked with such violence he was thought to be dead. How long will it be until the owners of businesses say enough, bring in armed guards to protect their stores, telling them to use whatever force is needed? It is time to pick your side.
The mayors aiding in this need to be removed either by impeachment or by force, if needed, the federal government should step in and get these cities into order. Running a city does not include making up excuses for rioting and looting. This is not what a civilized nation does; if these people are going to continue this, it is time to meet them with deadly force.
This is rapidly growing to the point where police can't contain this, telling the police to do nothing when Molotov Cocktails and bricks are thrown at them is pointless, if you are going to go up and attack a line of police like this, you should be met with a wall of fire. Citizens should show up to aid the police. It is past the point of trying to figure this out; it is time to pick your side.
Martin Luther King Jr. gave a great example of how to change what is seen as racism. However, at this point, I would challenge this perception, this is more a case of playing the victim so long when something like this happens, the situation with Floyd, this is seen as a racist incident rather than bad policing, the community explodes.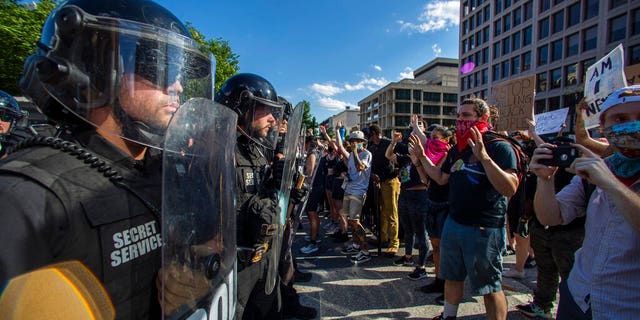 People chose in the past to march with King, put their limbs, their liberty, even their very life at risk, but they did so peacefully, today we have nothing but violence, people seem to think they are going to galvanize support, and they do for a short while, then finally the rest of the people tire of this. It is time to make a choice, do you want to side with the side that promotes anarchy and none stop victimization, or do you want justice? It is time to pick your side.
At this point, I support calling up the guard, but we need to do more then give them blanks, if people are going to attack a line of armed men, do so at your own risk, if they are going to loot, then people should have a right to shoot. Oh, and if you are offended by "loot and shoot" get over it because someone used a phrase for racist intent, which this claim is even highly questionable, does not mean it can't be used again, it is the context it is used in.
Besides, look at the crowds, they are mixed, so far as races go, if you are going to say this is racist, then you just disregarded every white person that came to march with you, so who is the real racist here. It is time to end this; it is time for you to pick your side. For me, I will choose the side of justice. I will stand with both Trump and the police.
To the rioters, if you wish to loot, riot, or assault people asking you to uphold the law, if the reaction towards your protest starts to turn violent, you have picked your side, you are not the victim, instead the perpetrator of the crime.