The Media: Friend Or Enemy of the Republic?
We have been taught our whole life that the media is our friend, they are the watchers or gatekeepers of our republic, they make the people in power answer for their actions, thus keeping them honest, but do they? Has the media over our history aided in keeping this nation safe, or have they more moved to harm it for their political agenda? The Media: friend or enemy of the republic?
We saw the press get an idea of what it was capable of during the first world war, powers were stripped for any writing of dissent, a journalist that dared to challenge this was arrested under the loyalty laws and tried by the Committee on Public Information, assets were seized, and publication facilities shut down. In Vietnam, we saw this go further, but instead of being under pressure from the government, the press decided they had a right to dictate public outlook, set about forcing defeat in Vietnam, even though we had won every battle. We see this same attitude today, but rather then a policy, they are trying to undo an election and the will of the American people.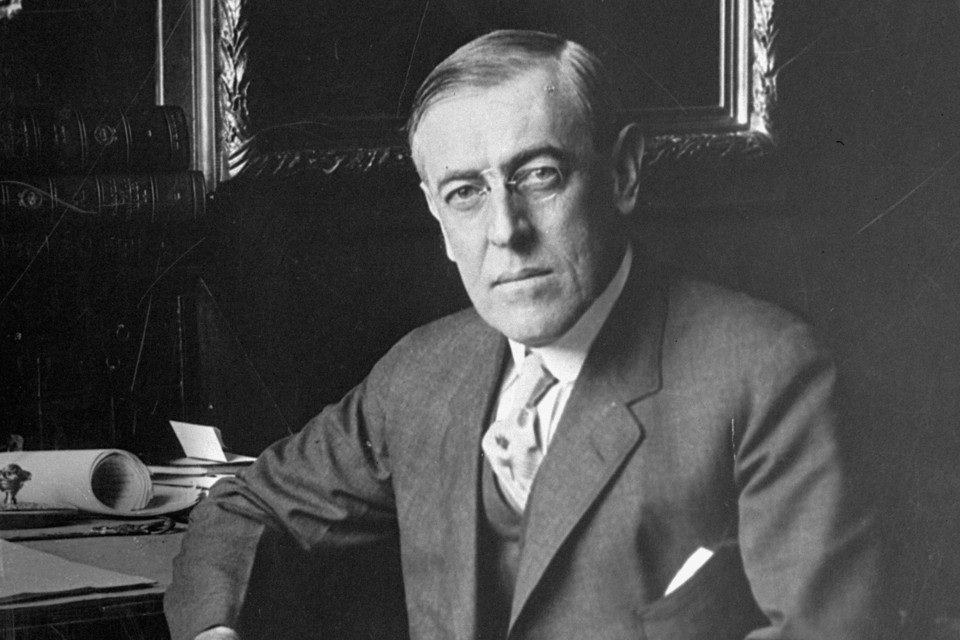 President Wilson
I have heard many say during the 1st world war the media was muzzled, Wilson had enacted laws that prohibited the media from saying anything negative of either the war or his administration, reporters were arrested and jailed when they dare to cross this line. He demanded loyalty, set up censor boards that checked out all stories in print, would shut down anything they deemed as unpatriotic, in many ways set in motion what was done in the second World War, used the censorship to halt any criticism of interning German Americans, even if they were more then a generation removed from Germany. Sadly the press was cowed enough that they happily went along with these rules.
What Wilson did was set out to systematically subvert the constitution, this beyond the loyalty laws that stifled the press, he also put executive orders in motion that took away the power to promote military commissions within the military from Congress, did this himself, he prior to this, seeing little rebuff from Congress had put in place by Executive Order the Committee on Public Information (CPI), while it seemed innocent enough, soon was stifling freedom of free speech of not only the press but citizens as well. 
Reporters that wrote on the great clan marches in Washington, that Wilson supported were jailed if they dared criticise the racism of the marchers, the press was too happy to fall into line with this. On must ask, "The Media: friend or enemy of the republic?"
Vietnam War
Sadly we saw this again in the Vietnam war a press that at first was open to the idea of intervention under Kennedy turned somewhat under the Johnson administration, then during the Nixon  they completely turned hostile to the war, refused to post on any good, they knew that dead bodies would drive up public outrage, more so if they were our soldiers, so they ran with the story.
The press went out of their way to demonize soldiers that were only there fighting because their country asked them to, refused to focus on the atrocities of the Vietcong, yet went out of their way to attack and write all about any done by American forces, soon any action was seen as an atrocity, the press was aiding in turning the attitudes at home to a way they wanted them to be.
What was the worst part, even the Communist admitted to the aid they received from the press. The very press that was going out of their way to find what they deemed as traitors, they were the worst offenders of this.
General Võ Nguyên Giáp, who many consider a great commander, who led the Communist in Vietnam against the US said in his memoirs:
"What we still don't understand is why you Americans stopped the bombing of Hanoi. You had us on the ropes. If you had pressed us a little harder, just for another day or two, we were ready to surrender! It was the same at the battles of TET. You defeated us! We knew it, and we thought you knew it. But we were elated to notice your media was definitely helping us. They were causing more disruption in America than we could in the battlefields. We were ready to surrender. You had won!"
A truism worthy of note: Do not fear the enemy, for they can take only your life. Fear the media far more, for they will destroy your honor.
I find it interesting how the Huffington Post, in a frantic move to claim this story is not true in their Snopes, then went on to confirm in with their reporting of an interview Wall Street Journal published an interview with Bui Tin, seems their fact checking was rather imploding on itself in this so-called fact check. Here is what the general said in his interview with CNN:
Q: How did Hanoi intend to defeat the Americans?

A: By fighting a long war which would break their will to help South Vietnam. Ho Chi Minh said, "We don't need to win military victories, we only need to hit them until they give up and get out."

Q: Was the American antiwar movement important to Hanoi's victory?

A: It was essential to our strategy. Support for the war from our rear was completely secure while the American rear was vulnerable. Every day our leadership would listen to world news over the radio at 9 a.m. to follow the growth of the American antiwar movement. Visits to Hanoi by people like Jane Fonda and former Attorney General Ramsey Clark and ministers gave us confidence that we should hold on in the face of battlefield reverses. We were elated when Jane Fonda, wearing a red Vietnamese dress, said at a press conference that she was ashamed of American actions in the war and that she would struggle along with us.

Q: Did the Politburo pay attention to these visits?

A:Keenly

Q: Why?

A: Those people represented the conscience of America. The conscience of America was part of its war-making capability, and we were turning that power in our favor. America lost because of its democracy; through dissent and protest, it lost the ability to mobilize a will to win.

Q: What else?

A: We had the impression that American commanders had their hands tied by political factors. Your generals could never deploy a maximum force for greatest military effect.
We found in the Vietnam war that truth was subjective to the press if the truth had to be omitted to push their point, they were more than happy to do so. They made villains out of our brave men and women fighting and dying for the people there and made heroes out of traitors like Jane Fonda.  We have to ask again, "The Media: friend or enemy of the republic?"
Today
We saw during the administration of Obama, the press, like with Wilson was too happy to go along with wrongdoings, rather then being under threat by the government, willingly aided by ignoring what they would have been screaming over, ignored instead of putting on front page headlines if Bush or Trump had done the same.
The dismissal of Clinton's emails, the coverup and the aiding in this by the press of the IRS scandal targetting Conservative or pro-Israel troops hardly even registered with the liberal press, they made excuses up for Bill Clinton's sex attacks, attacked the women, and said Hillary was innocent in all of it, they said nothing of Obama illegally using state funds to try to unseat the Prime Minister in Israel, went so far as to send his own election team there to aid the opposition, then screamed bloody murder when Russia did the same to us, they reported that none stop.
The fake news, the move to aid in trying to unseat a duly President has shown us the press is no longer the gatekeepers, they aren't even the friend of America, the liberal press is the enemy of all this nation stands for, are open to aiding our enemies if it advances what they desire. If a citizen did what the press is doing, they would call them traitors, convict them of aiding the enemy, then toss them into the prison for the rest of their lives. How the press is set up now, it is corrupt, has no accountability, the narrative is far more important than the facts to them, they are the enemy to everything the founders of this nation desires, it is time to put a stop to this, if the government does not hold these people accountable as traitors to this nation, maybe we should.
The good news is now the press does not control the way they used to, with social media, the internet, we can find the truth quickly if we are willing to look for it. You see even with this the pervasive destruction of the Liberal Dogma; they are trying to now put in their control and twisting of facts by controlling access to what is shown on social media. Founders of Facebook, Twitter, even Google think they have the right to silence free speech, anyone from both sides that hold free speech dear, we need to figure out a way to break their stranglehold they are trying to put on our ability to access what is going on, maybe we need to start looking at alternative platforms to be heard from, and others need to follow.
I will say what I have said many times, wrong speech, harmful beliefs, even if they are something as vile and wicked as fascism, or white supremacy, you don't ever silence, you make them irrelevant with the truth. As much as it may feel nice to shut them up, make it so they can never speak, you educate, you counter with facts. There are some that will not care about facts, the liberals in this nation are proof of this, but if you can reach 99 out of a 100 with truth, you have succeeded, if you try to silence speech, it will be heard.
So I ask, "The Media: friend or enemy of the republic?" I would say they are traitors to the republic; they would sacrifice our rights, our freedoms to push their liberal ideology, that is not the action of an enemy from without, that is the action of one from within, one that will sell out to even our enemies if it advances their goals: that is the definition of a Traitor.
Free Speech Is Under Assault. Social Networks and Much Of Europe Are Leading The Fight.