MSNBC's Joy Reid Claims Trump is faking COVID diagnosis to 'get out of the debates'
First, we find out that Trump has COVID, the left goes crazy wishing death and destruction on Trump and his family, but now the crazies are starting to come out, leading them is MSNBC's Joy Reid, claiming that Trump is faking illness for political gain.
In news that shocked the world on Thursday Trump announced that both he and his wife had contacted COVID.
But this news did not stop the likes of Reid from speculating that Trump was faking his illness, later claiming her 'friends' were the ones that told her Trump was faking. This was done just hours before Trump had been whisked away to Walter Reid to undergo treatment for COVID.
"Here's how wrecked Trump's credibility is at this point: I've got a cellphone full of texts from people who aren't sure whether to believe Trump actually has COVID. 'He lies so much,' one friend just texted. 'Is he just doing this to get out of the debates?' others are texting," Reid tweeted on Friday morning.
Reid claimed that somehow she saw in the debates what no one else saw, that Trump lost the debate so badly that he did not wish to risk another one. This comes with the current conflict with the Debate Commission and the Trump Campaign due to their stating they may change the rules to shut off Trump's mike if he will not be silent (amazing how Wallace nor they cared about when Biden did this).
Reid was alluding to the fallout from Tuesday's chaotic presidential debate and the growing tensions between the Presidential Debate Commission and the Trump campaign over potential rule changes, including allowing moderators to cut the microphones of disruptive candidates.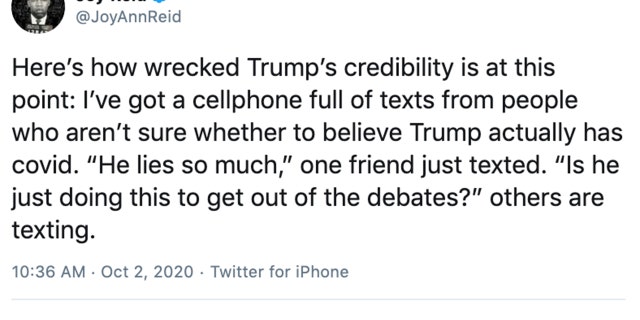 Her response was quickly attacked from both sides of the political aisle, many claiming this was not the time for this sort of speculation.
Jerry Dunleavy does have a point; I expect Reid to claim her account was hacked, just like she did when she posted homophobic remarks; we all know she will not take the blame for her tweet.
MSNBC did not stop here, her colleague Stephanie Ruhle looked past Trump with COVID and wishfully asked if Pence came down with COVID, and both were incapacitated or passed, was she ready to take on her role as the next in line after Pence for the office of president, she further asked if the White House "contacted you about the continuity of government?"
"No they haven't," Pelosi responded to Ruhle. "But that is an ongoing- not with the White House but with the military, quite frankly, in terms of some officials in the government. But let us just all pray for the president's health and thank God the vice president has tested negatively and the second lady as well."
Thankfully, at this time Pence, who is next in line as Vice President has tested negative for COVID.
We are committed to truth and accuracy in all of our journalism. Read our editorial standards.