President Biden's Ratings Now Show Disapproval In All Major Issues
On Tuesday night, President Biden gave his first official State of the Union address, covering the war in Ukraine, the economy, COVID-19, and many other issues. Since the start of Biden's term in January 2021, the Economist/YouGov Poll has tracked Americans' ratings of his performance — and for months leading up to the speech, more people disapproved than approved of Biden's work on a wide range of issues.
TRENDING: January 6 Commission Say Trump May Have Caused Riots, Sends Cause For Charges To Prosecutors
About halfway through his first year in office, the share of Americans who approve of Biden — both generally and on most issues — began to fall below the share who disapprove, and that remained the case with the latest polling data collected just before the State of the Union, some of it hours before. Only 42% of Americans approve of handling his job as president, compared to 47% who disapprove. Below, we break down how Americans' views on Biden have changed across several issues and characteristics: how he's handling COVID-19, his strength of leadership, his ability to unite the country, and more.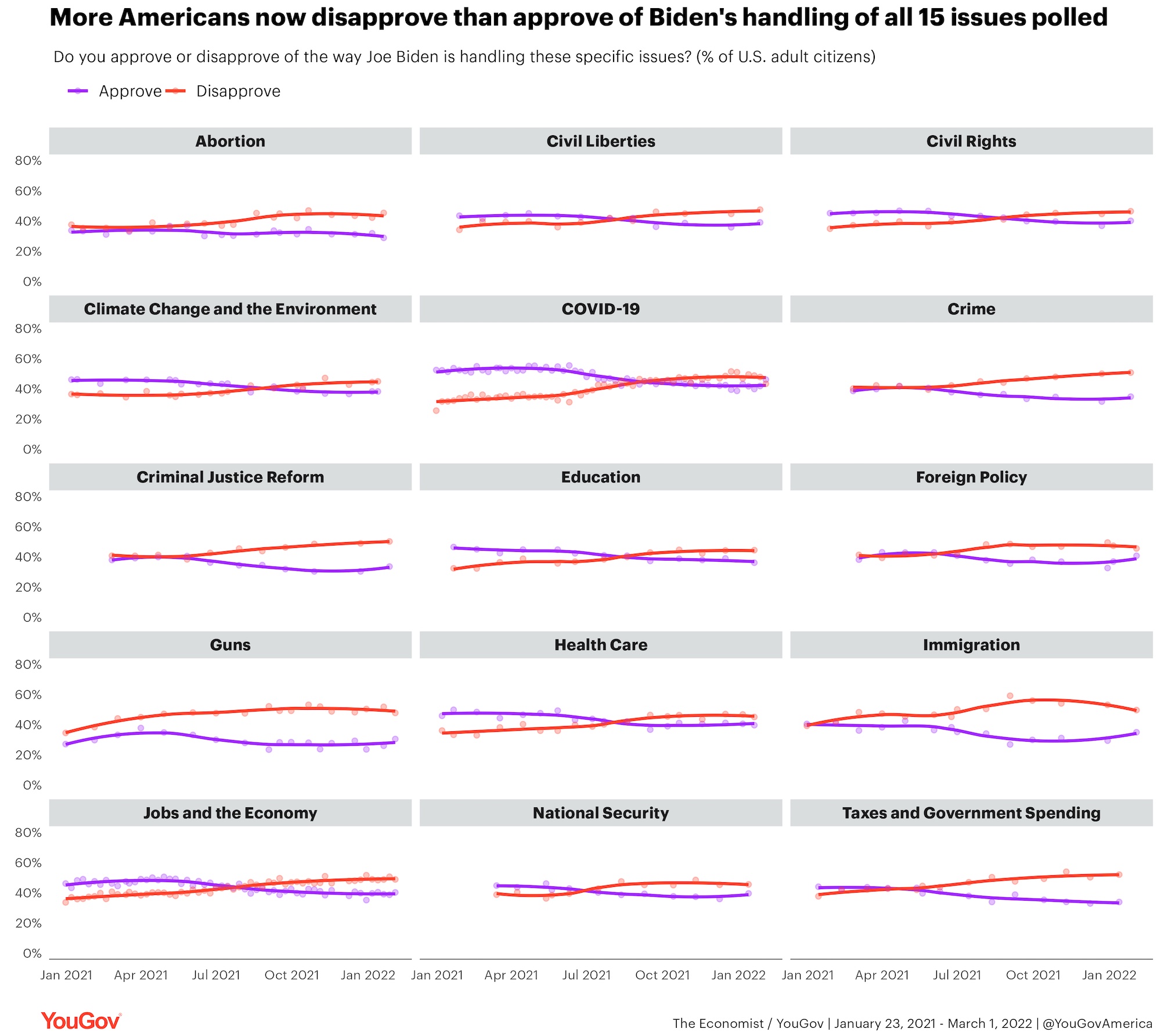 Do Americans approve of Biden's handling of his job as president?
Do you approve or disapprove of the way Joe Biden is handling his job as President? (% of U.S. adult citizens)
The Economist / YouGov | January 23, 2021 – March 1, 2022 | Get the data
Do Americans think Biden is a strong or weak leader?
Would you say Joe Biden is a strong or a weak leader? (% of U.S. adult citizens)
Are Americans confident in Biden's ability to handle an international crisis?
Are you confident in Joe Biden's ability to deal wisely with an international crisis, or are you uneasy about his approach? (% of U.S. adult citizens)
Will Biden be able to bring the country together?
Do you think that Joe Biden will be able to bring the country together as President? (% of U.S. adult citizens)
What is unprecedented, every polling item Biden has not only dropped but has even done so with his own party. While this is a nationwide poll, the numbers for anyone working in the Biden administration have to be alarming to the extreme.
So how has Biden responded to these polls, has his administration taken an inner look, watch what Americans want, and moved to meet this expectation, such as Clinton did coming up to his second term? No, they instead have informed us that we are incapable of being happy, for Biden is doing exactly what his handlers wanted.
TRENDING: 'Full of Sh**!" Border Patrol Agents Blast Biden Over Immigration Claims
We are finding the results of this, the lack of enthusiasm of having incumbent Democrats riding on the shirttails of this administration, or new challengers looking to him to give support to their campaign. This will end up with what could possibly be record losses for the Democrats in mid-term elections, with both the House and Senate in play for the GOP.
We are committed to truth and accuracy in all of our journalism. Read our editorial standards.