Rashida Tlaib And Ties To Terrorism
We must as Americans ask ourselves, if the Democrats were so concerned about Trump's ties to Russia, turns out there are none. And they said and continue to say, at least some of them, that they are concerned about him passing on information to Russia, should we not be even that much more concerned when we find Congressional members have ties to terrorist. We explore this with Rashida Tlaib.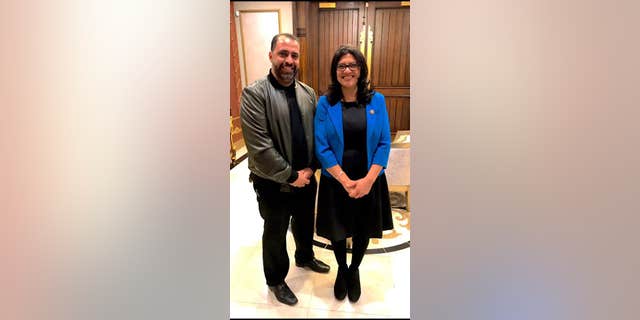 I am as a rule not willing to say you are guilty of what the company you keep believes in, at least in the case of one or two people you chose to call friends, but if you have a whole crowd of people who express these same beliefs, yet you are befriending them all, this brings your allegiance into question in a hurry, this is what we are asking with Rashida Tlaib. So let's explore these ties.
First, we have Rashida Tlaib's friend Abbas Hamideh, here he is in a speech while in a march, one has to wonder, is this what she stands for?
But let's explore his tweets:
The question to ask with this, was this the nation of Palestine? Of course not, it was the Mandate of Palestine, and what was the Mandate set up for? This is contained within the first paragraph of the mandate:
There is much more, this is pulled just from what he had recently tweeted, go further back he is showing support for a terrorist who has killed both Israeli's and Americans, one has to wonder, why is this terrorist supporter even allowed in the US, who allowed him to migrate? This is what
Rashida Tlaib is keeping as her friend.
But let's go on.
Here is a video that looks at the friends that Rashida Tlaib has as her supporting circle:
Next, let's look at her other good friend Amer Zahr, he was the one that was made infamous for going into her congressional office and putting up a sticky note covering Israel and putting up Palestine.
What is disturbing, you have a terrorist supporter, yet they are allowing him to go into our schools to educate our children, shame on you Michigan.
Here is the Islamic perception of Obama, find it interesting, while he says he supports Ilhan, he does not like seeing Muslims attacking each other. Who was she condemning? Turns out President Obama:
Here he says that he supports Free Palestine, but how would you free them? The Supporters of this movement chant, "Free, Free Palestine, from the Jordan to the Sea!" In other words, the total destruction of Israel is what they are calling for.
We can see clearly his stance, he also supports terrorism, so I ask you
Rashida Tlaib, why are you keeping as your friends and advisers terrorist or terrorist supporters?
It is time for America to wake up, I am tired of these enemies of our nation and our allies implanting themselves in our government, it is time to toss this terrorist supporter out of the halls of Congress, give her seat to someone that loves America, not terrorist.
We still have a couple of weeks of work left to get 0censor community to get it to where we want it to be, but soon will have it functioning as a social network site where all speech is protected, political views one side of the political spectrum does not like will never be silenced! Click on the icon below.