Rashida Tweets Kosher Store Attack In Jersey City By White Supremacist
Rep. Rashida Tlaib tweeted that the attack in the Kosher market in Jersey City, New Jersey on Tuesday was the act of white supremacy, yet there were no whites involved in this attack, other than being on the dangerous end of the gun.
In another case of fake news by the left, we have attacks coming quickly in the event of such a shooting, immediately blaming this attack on White Surpremicist when it came from Black Hebrew Israelites, a black power terrorist group who claim the blacks are the real Hebrews of old, the white Jews are imposters.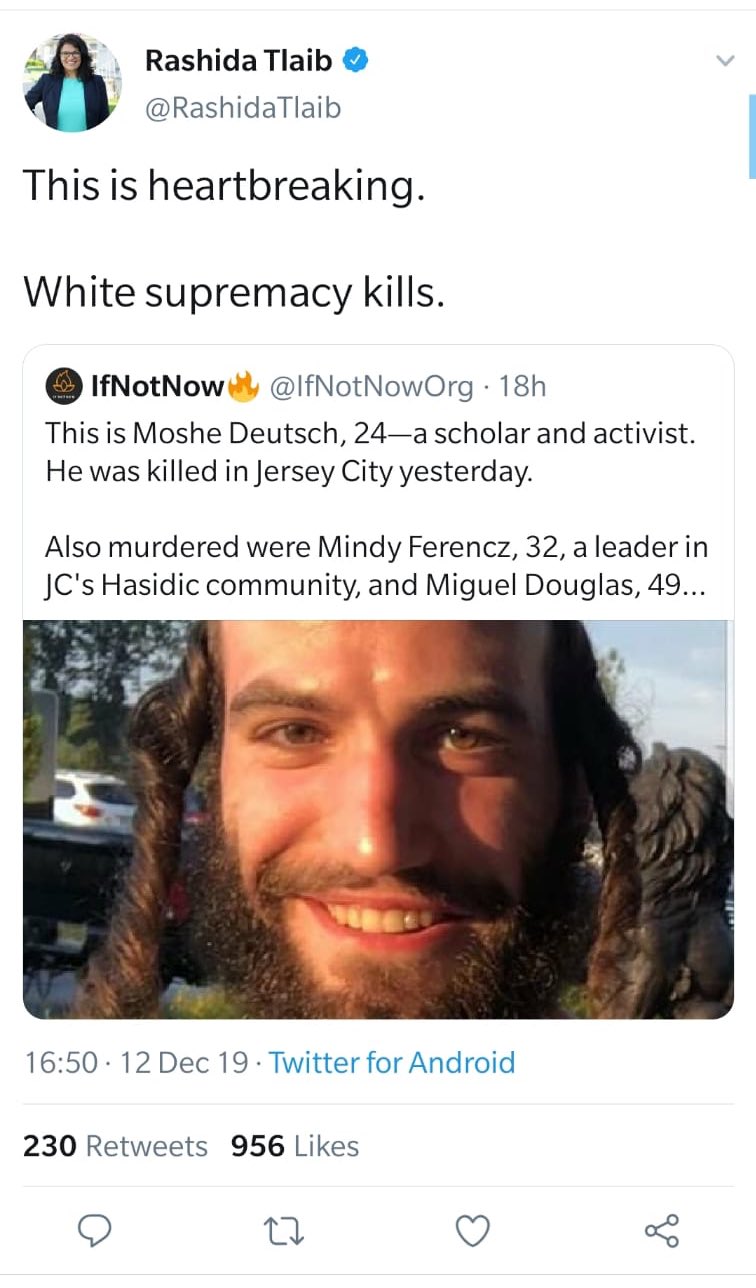 In her tweet, Tlaib shared a picture of a victim of the attack, Moshe Deutsch. "This is heartbreaking. White supremacy kills," Tlaib wrote. Soon after, she deleted her post. Likely, she did so because the post was completely inaccurate.
The Southern Poverty Law Center classifies the group as a black nationalist group with a mission to fight white supremacy. They warn the group is likely to grow and continue to target Jewish people, White people, and police.
They are associated with prominent antisemite Louis Farrakhan, who, in February, said, "I don't care what they put on me. The government is my enemy, the powerful Jews are my enemy, and scared to death negroes are my enemy, and weak Muslims and hypocrites are my enemies, but here I stand! Unfazed by a government that wants my life."
Authorities confirmed Wednesday that Tuesday's attack was deliberate. Two shooters, a police officer, and three locals were killed in the attack. One of which was Moshe Deutsch, 24, who entered the grocery to make a purchase.
"Moshe Deutsch may he rest in peace, was dedicated to studying his Jewish faith every day by learning in a Yeshiva he was instrumental in establishing and getting off the ground. He was extremely kind and generous and was the go-to person when his peers needed help," the United Jewish Organizations of Williamsburg and North Brooklyn said a statement.
The two other locals killed in Tuesday's shooting included Mindy Ferencz, 32, and Douglas Miguel Rodriguez, 49. Ferencz, a mother of three, co-owned the grocery with her husband. She was a "dedicated, a real mother and a real wife," Ferencz's brother-in-law told the Associated Press. The couple employed Rodriguez. "He was a quiet guy, always helping," Shaya Bodenstein, a frequent customer told the AP.
What is of interest is the total news blackout on this as soon as the press found out it was not whites that had done the attacking. Instead, when they found out the attackers were African Americans with ties to Farrakhan, suddenly, any references to this were taken off the air. It looks like this type of shooting did not support the lefts claim that all these shooters are angry white men, so the story carried no merit for them.
We consider to see from the left, they will grab any garbage that will paint Trump or whites in a bad light and use this to attack. If they had bothered to wait until the facts were in, they would not continue to be caught posting fake news as we see now.